Workshops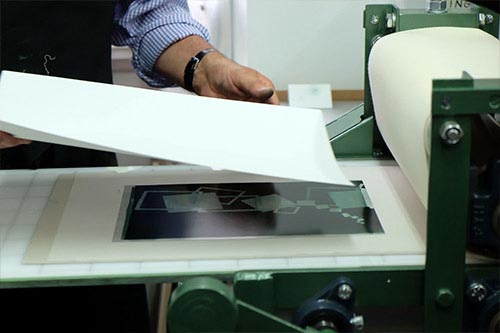 Explore your creativity with our new workshop experience of printmaking.
Printmaking covers a wide range of processes for beginners to the more advanced artist. Exploring printmaking is a wonderful way to create great images with simple techniques and processes.
For the first time, we are opening our studio to offer printmaking workshops with artist Brian Hindmarch and designer Jacky Al-Samarraie.
Following the success of our taster sessions during our 10th Anniversary Celebration weekend on 28th & 29th July, we have put together a new programme starting Sunday 2nd September. We will be offering full day workshops on selected Sundays during September to November.
We are also offering a 6 week evening course starting Tuesday 16th October.
There will be 7 places available at each workshop.
Dates for Sunday Classes:
2nd September - Drypoint
23rd September - Monotype

7th October - Collagraph

21st October - Drypoint
28th October - Monotype
4th November - Collagraph
Time: 10.30 - 4.30pm
Cost: £75 including materials
Dates for Tuesday Evening Classes:
October 16th, 23rd & 30th
November 6th, 13th & 20th
The first two sessions will be Drypoint, followed by 2 x Monotype and finally 2 x Collagraph
Time: 6.00 - 8.30pm
Cost: £180 for 6 weeks including materials.
Online booking will be available from mid August.
If you would like to be added to our workshop mailing list please email us your details including a mobile phone number so we can keep you up to date with new workshops. admin@theartrooms.co.uk